Fairmont Decorators provide specialist Painting & Decorating services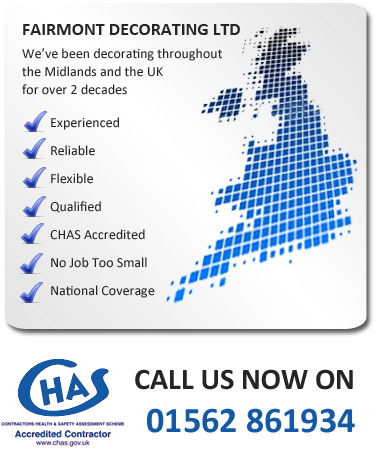 Fairmont Decorating specialise in decorating and painting – it's what we've been doing for decades and what we do best.  We know what we do and we do it well – so you can have confidence in us.   Working within both the commercial and domestic sectors we use the finest materials and products such as Dulux paints.
Our trusted painting and decorating business has been working our magic for over 20 years, improving commercial and residential properties for clients including working for private individuals, contractors, councils and housing associations.  In this time some of the services we have offered include:
Wall Painting
Papering
Floor Painting
Spraying
Shop Fronts
Spray Specialist
Wall Coverings
Varnishing
Painting Steal Frame Building
Specialist in Muraspec wall coverings
Wood Preservatives
Fairmont Decorating are also licensed to use cherry pickers.